Image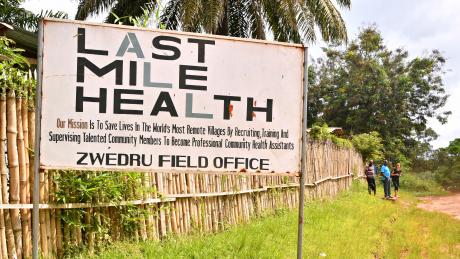 Photo: Katie Machell
Dr Ami Waters, Medical Director at Last Mile Health, shares about the challenge that isolation presents to effective delivery of health care in Liberia
'It's not because people don't care. And I don't think it's because people don't love. I think that the tyranny of distance really does affect so much,' states Ami. 'It's not just that these people are far away. It's that the roads that should be linking them, or the infrastructure that should be connecting, them is not there.'
'As one of my mentors says, "needless deaths occur where voices go unheard". I think the same things that cut these people off from care, the same things that make them especially vulnerable to disease, also make them especially vulnerable for people not to understand when they're making policy.'
Image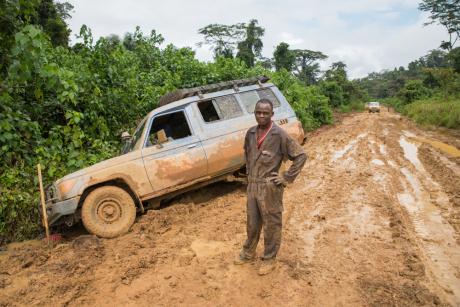 Photo: Last Mile Health
Bad road conditions
Born out of conflict
Last Mile Health was founded in 2007 by survivors of Liberia's civil war and American health workers with a shared commitment to health equity and social justice. Years of violence had destroyed the country's health systems, with the biggest impact felt in remote communities; those at the 'last mile', who lacked access to healthcare due to distance and poverty.
Image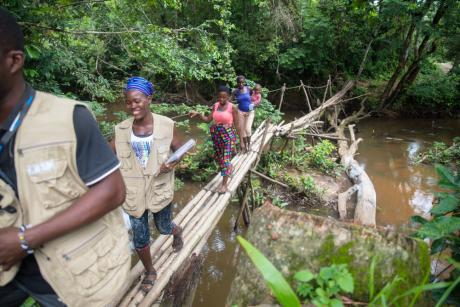 Photo: Last Mile Health
Foot bridge
Central to Last Mile Health's model is partnership with the Government of Liberia, to scale and sustain the National Community Health Assistant (CHA) Program, which aims to provide primary healthcare to 1.2 million Liberians living in rural and remote communities. 'It is a community-driven activity,' explains Tarnue Jallah, Last Mile Health's Manager in Grand Gedeh County, eastern Liberia. 'They identify their own community-dwellers to do the role, and we train them in the field of health.' Once recruited and trained, CHAs deliver primary healthcare to their neighbours. They receive monthly supervision, supplies and a smartphone for continuing education, and are paid for their work.
Ami shares that today, Last Mile Health is 'more committed than ever before to bridging the gap between clinics and remote communities…to bring primary health services to the doorsteps of people living far from care'. MAF shares that commitment to reach and serve such people.
'One of the values of Last Mile Health is we are all in this together,' says Ami. 'It is encouraging to have partners with similar goals and similar missions; it's not just that we as individuals are not alone, but that as organisations we too are all in this together.'
Image
Photo: Last Mile Health
Last Mile Health worker
Hope in the face of hardship
A major obstacle to the work is the sheer difficulty in getting to remote areas; one aspect of the 'tyranny of distance' that hinders access to healthcare.
Catering for 'those far and hard-to-reach communities, is not an easy thing,' says Tarnue. 'The deplorable road condition is a serious challenge for us.' A fleet of motorbikes goes some way to overcoming this, providing a means to get to isolated communities that a bigger vehicle could not reach.
In spite of hardships, the work is effective:  Tarnue and his colleagues are encouraged by the improvements they have seen in the health of the people they serve. In particular, the work of CHAs with pregnant women has contributed to a significant reduction in the maternal death rate. 'A very huge improvement,' he comments.
A very special partnership
MAF can of course have a role in supporting Last Mile Health to overcome the tyranny of distance in practical ways, by transporting drugs and equipment. But perhaps we also play a part in lessening the isolation from representation when we help decision-makers in Monrovia visit remote areas of the country. Through first-hand experience, gaps in understanding can close further and greater equity of quality and access can be achieved.
'We go as far as it takes for our patients, and we make it so much further and more successfully if we are not alone in this,' says Ami. 'Knowing that we have partners who value these people who are at the most remote of areas, who are often cut off from access; and acknowledgement of that need and wanting to fill it, is such a special partnership.'