Image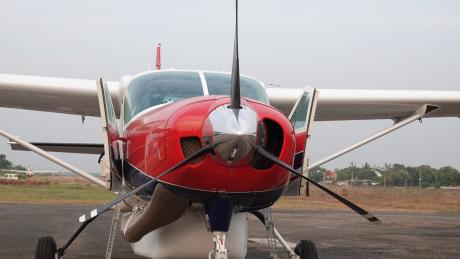 Rachel Gwole
MAF Liberia's newest aircraft is bringing help, hope, and healing to remote communities – thanks to the generosity of supporters and months of preparations.
The Cessna 208 Caravan N552HF arrived in Liberia on January 13, 2023. Pilot Dylan Fast and his son Isaiah Fast, brought the new aircraft to Liberia from the United States of America, it took them three days to fly from the USA to Liberia. The aircraft has already been playing an important role in delivering evangelism, healthcare, and education through different projects in cooperation with various MAF partners.
Image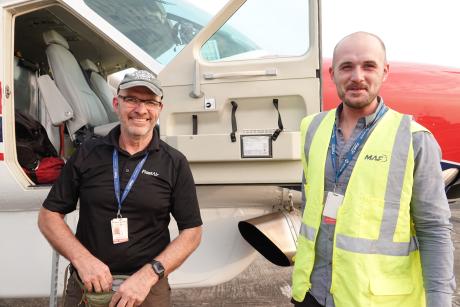 Rachel Gwole
Captain Dylan Fast and Isaiah Fast
What passengers do not see is the work that went on behind the scenes to train pilots and get all the necessary licenses and paperwork in order.
Brian Shepson, a chief pilot who has been serving with MAF for thirty-eight years and now is training pilots around the world, visited Liberia to help the program with the new licenses, the new airplane, and certificates. He is a pilot trained to operate the new aircraft received in Liberia.
The training in Liberia lasted for a week, it was challenging work to accomplish with test flights and communication with controllers, and understanding the new equipment.
It is the first time in Liberia that MAF International and MAF US works together to step forward. MAF Liberia is now also transitioning from the Uganda Civil Aviation Authority (UCAA) system to the Federal Aviation Administration (FAA) system. Pilot Brad Ballin said, switching to the US system was seen to be the best long-term option for the Liberia program. Flying under the new rule (135 rules) has a lot of challenges and there are new things to learn, but the process is going well, and it will benefit the customers and partners who are helping communities in rural areas.
Image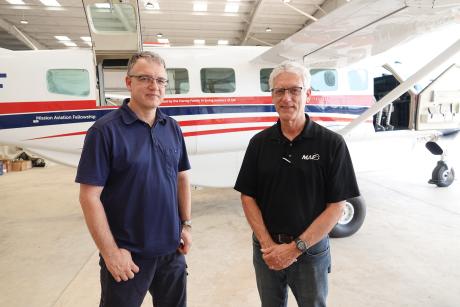 Captain Ulrich Muller and Captain Brian Shepson
"The Cessna 208 Caravan N552HF is incredible to us, and we know it is very expensive as well but, it is necessary to provide the services that are needed, to make Liberia a better place by knowing Jesus and by being able to overcome the difficulty of ground travel,"
says Brian Shepson.
MAF Liberia pilot Ulrich Muller said the training had been challenging but shared his joy at the difference the aircraft would make for lives in isolated communities.
"Well, we are very glad, we are very happy to have this awesome equipment here in this country, I think we will be able to offer a great service to our customers to people actually working in this country to make life better for the people living here, I think it's gonna be a huge blessing to fly with this aircraft and in this environment," he said.
"To those who have donated the aircraft and have made it possible, you probably don't even know what difference it makes for people who work in this country to be able to fly to a certain place instead of spending days on difficult and dangerous road conditions.''