Image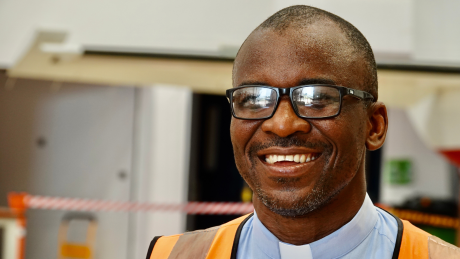 Paula Alderblad
MAF flight has brought great relief to the citizens of Liberia through partnership with the catholic church
MAF plays a valuable role in helping the Catholic Church reach people in remote parts of Liberia. The Catholic Church has operated in Liberia for more than a hundred years and Father Denise Nimene is a catholic priest and the secretary general of the Catholic Bishop Conference of Liberia which coordinates the activities of the church, health matters, education, and social programs in the country.
The church has been partnering with MAF for the past six to seven years, making it easier to travel in rural areas to run initiatives, such as helping people become good citizens, tackling educational needs, and supporting health facilities and social programs. It is a way of contributing to building the nation. The catholic church was informed about the availability of MAF flights, Catholic church is present all over Liberia and in Maryland county. Harper is the hardest part to easily visit Fr. Dennis said.
"I was very excited to hear about it, and it is making it easy for people to move. As well as to move our resources, human resources, and other material resources to parts of the country"
Father Denise was glad to have the MAF flight in Liberia, and think the flight is very important.
"I believe giving priority to non-governmental organizations is important"
In this way MAF helps, giving relief to people in Liberia and spreading out the gospel to all parts of the country through partners.