Image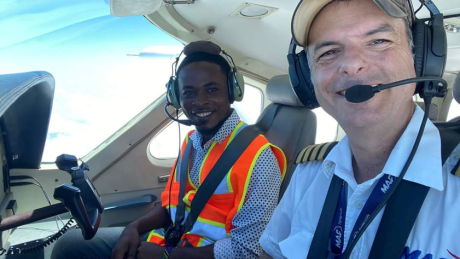 James Dweh first flight with captain Steve Biggs Photographer Capt. Steve Biggs
"I have a wonderful experience that has to do with my first flight. It was so exciting; I must say a very big thank you to Captain Steve Biggs for giving me that opportunity. I am also happy about seeing myself contributing toward putting smiles on people's faces in those areas,'' says James.
James Dweh, the store officer for the MAF Liberia program, celebrated his one-year anniversary with so many exciting moments over the past months, weeks, and days that have passed. During this time, he has gotten a clear understanding of the various parts of a plane and the name of the equipment.
The stores officer of the MAF Liberia program shared his first experience, "What I also enjoy here at MAF, is the daily devotions, it helps one to reflect on God during daily work, and it also builds my spiritual life. I am grateful to MAF for making that time available for us as a staff, to reflect on the God we serve".
Image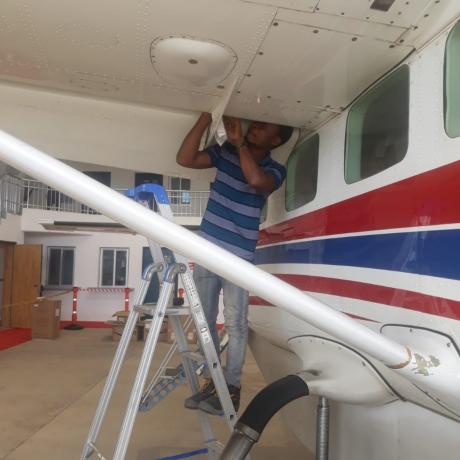 James Dweh is working in the MAF Liberia Hangar Photographer: Rachel Gwole
James joined MAF Liberia on September 1, 2022, he is excited to be a part of the MAF Liberia programme.
''Having a one-year anniversary is a big blessing from God almighty.''
Before joining MAF Liberia, James worked with several international organizations and has had over five years of working experience mostly, in logistics and office administration. While serving at an international solar energy company as an Operations Assistant, James successfully contributed to managing and distributing solar appliances across Liberia to provide reliable and affordable current in homes, offices, and business centres.
James has also served as a Logistics Associate on several USAID-funded projects. He again successfully managed and worked with Liberia county health teams, medical school administrators, and other partners to donate a variety of medical supplies and equipment to hospitals, clinics, and medical schools across Liberia.
Image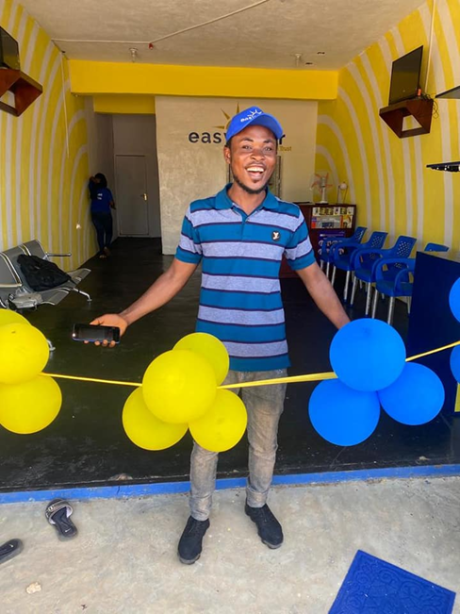 James Dweh at his old working area(International Solar Energy Company) Photographer: Natty Davies III
He had never heard about MAF Liberia aircraft, but online he came across the MAF Liberia vacancyr. He applied and, luckily for James, he was called for an interview at the MAF Liberia office. The interview went well, and he is now an employee of MAF Liberia.

James is a Christian leader serving his church as youth president, he attends weekly activities at his church.
Aside from James' professional career, he's also a devoted Christian and a member of the Life Transforming Word International, where he's serving as the head of the youth department and a Minister.
Socially, James loves football and is a fan of the Real Madrid football club. He also loves music and his favourite song is "Atmosphere" by Promise Benson.
James has contributed a lot to MAF Liberia and is a great member of the team.